The aisling (Irish for 'dream, vision') or vision poem, is a poetic genre that developed during the late 17th and 18th centuries in Irish language poetry… and aisling inspired the creation of this cliff side boutique Hotel overlooking the magnificent sunset in both Oia and Imerovigli.
It consists of 2 spacious luxurious suites  in Oia, built in an avant garde style, all designed to provide the absolute experience of… aisling!
White sparkling luxurious serenity all around you overlooking the big blue, the cliff sides and the Volcano…wake up in your dream…touch…cuddle…kiss…love with every fiber of your existence and sense the experience of the absolute pamper in all levels.
City/Area: Oia Location: Oia Rooms: 2 suites Category: 4 Stars Key Feature: Caldera View
---
DayDream suite
Lucid suite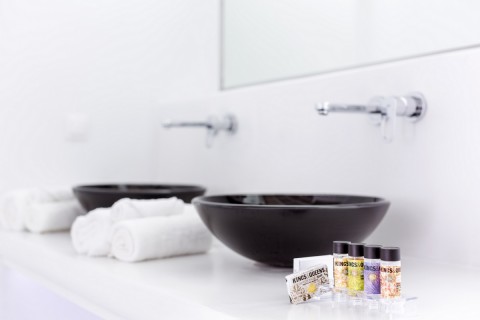 DayDream suite is designed to offer the ultimate volcano view. Spacious verandas equipped with double day beds to laze under the sun enjoying your cocktails and large tables and chairs for a romantic in house dining under the sounds of your favorite music surrounded by candles and expertise staff willing to fulfill all wishes. The interior is glossy white paved, walls are curved like sculptures, minimally ornated. The luxurious bathroom is split in 3 parts spread all over the room: Wake up and step down the stairs behind the bed to refresh yourself at the double sink..then lay down comfortably to your luxurious bed and watch your partner having shower behind a thick glass…or join him/her for a revitalizing double rain shower. The origin of the bright white lighting could very well be a treasure hunt: search it under the bed..the couch..the sinks' board…living in DayDream Suite is an infinite play between dreaming and reality.
Lucid suite is the little jewel of Aisling Micro Hotel. It is stretched in two levels, ideal for a cozy romantic escape to the land of dreams. A lucid dream is any dream in which one is aware that one is dreaming. So this micro suite is designed to be the love nest of your dreamy reality, inspired by its name.. a cozy living room where white dominates.. jacuzzi pleasantly relaxes.. oil room vaporizers and media music player creates your ideal atmosphere.. mini bar stacked with all necessary teasers to enrich your stay.. on the upper floor, king size bed with natural full latex mattress creates the best conditions for a dreamy sleep..or a dreamy staying overbed all day long, overlooking the volcano through the big verandas which are both equipped by double sun beds, large table and chairs for an open air break to the big blue and the volcano.. we are pretty much sure that leaving Lucid Suite no one is able to sort out for sure whether the days he spent there were dreams or reality..
Take a look at the rich list of Hotel Facilities and Guest Services provided by Aisling
Reception with concierge assistance
"Tailor made services" prior to arrival
All suites with Caldera sea view
Each room individually designed and furnished
Private fresh water Jacuzzi
Private candlelight dinners
Room service
Welcome drink and cold towels upon arrival
Complimentary Room service A-la-carte American Champagne breakfast
Bespoke Hampers
Candle light and rose petals room decoration on request
Twice daily maid service
Laundry & dry cleaning services
Complimentary shoe-shine service
Porter service
Free parking on site
Free Wi-Fi internet access throughout the hotel
Complimentary iPad
Complimentary cell phone
Newspaper/magazine delivery of your choice

Postal/parcel services
Floral requests
Private massage, beauty treatments and therapies
Manicure & Pedicure services
Makeup artist services
Hair dresser services
Baby sitting services
Doctor on call
Private & semi-private cruises and excursions
Wine tasting tours
In house wine & food tasting
Private limousine tours
Helicopter services
Private Sailing tours
Yacht hiring
Diving & snorkeling activities
Horse back riding
Hiking & trekking activities
Car & ATV rental
Airport & port transportation
All suites available for wedding ceremonies
All rooms are smoke free
Are you about to propose? Have you already proposed and you are looking for the absolute mystic wedding experience just for two? Or do you simply want to offer the best birthday or anniversary celebration to your other half?
If you belong to any of these categories, simply imagine numerous candles and rose pedals spread all over the place, creating a fairy tale scenery..soft music gentle pampering your ears..a table ornated with your favorite flowers that magically changes every time one of your favorite dishes is being served..and all these right on the Cliffside overlooking the Volcano and the fantastic sunset in the privacy of your veranda..can you imagine a better way to celebrate your special occasion?
Our expertise personnel is available to discuss with you these special touches that will effect the absolute tailor made celebration of your taste.